Ideas to Help Keep You Safe.
Below are ideas you can use today to help keep you and your staff safe and protected.  
Please share these tips with anyone that you think will benefit.  Provide any feedback that you think would be helpful, including any successes or failures of these or other ideas.  For any more inforamation or to provide feedback you can email: [email protected]  Check back, as this page will be updated as often as possible with new ideas to keep you protected; so you can continue to do your job helping others.  Whenever possible references to original sources of ideas will be provided.  Likewise, when sharing our original information, providing an acknowledgement to this website would be appreciated. 
To learn more, please scroll down.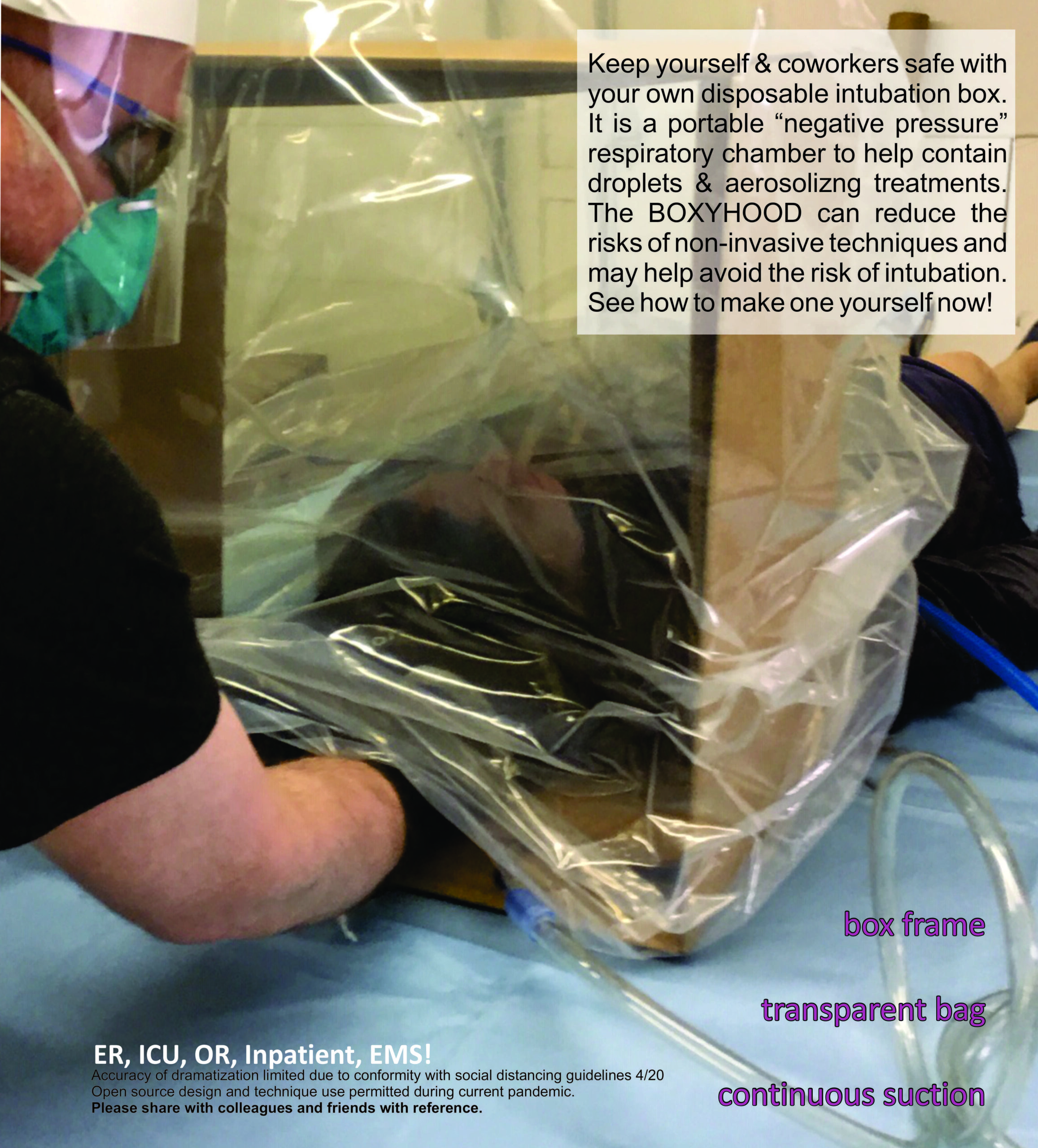 MADE FROM AVAILABLE MATERIALS. aSSEMBLES IN SECONDS.
Use in Different Positions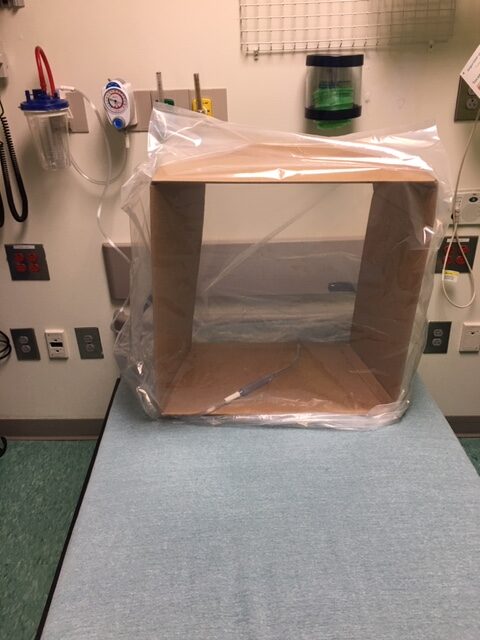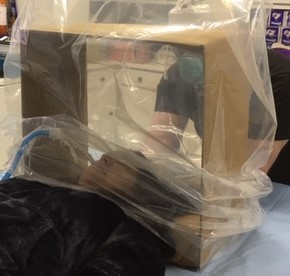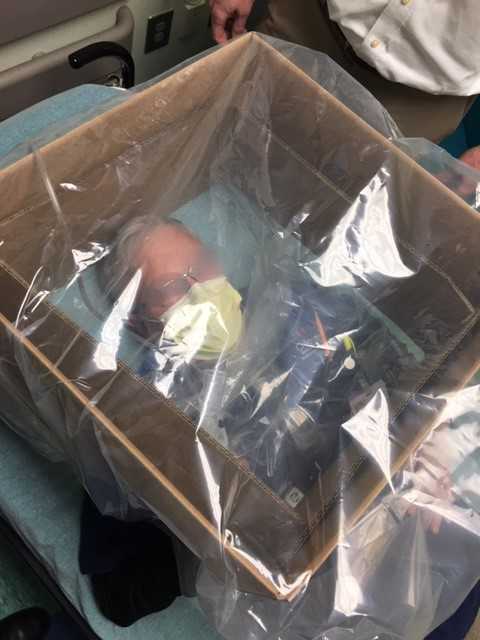 Horizontal FOR
inclined patient
More than just a disposable intubation box.
The REAL "BOX" for Intubation & Respiratory Droplet Biohazard Containment.   
Need protection during aerosolized procedures and ongoing treatment of patient with infectious respiratory diseases? Consider this device and technique that you can implement immediately on your next shift.
This easy makeshift design and negative pressure technique have practical applications to improve the safety of providers, especially during resource limited situations when more elaborate pre-fabricated devices are not available.
We recommend using the same principles of containment, active dilution and simplicity that lead to the development of our product line of wound irrigation products.  Just like bacteria can be blasted and diluted away under the SplashCap(R) wound irrigation shield while the provider is protected;  viral burden can also be actively be vacuumed away using continuous suction.  Likewise, you can "dilute" away dangerous respiratory pathogens to reduce the bioburden and reduce contamination risks.
By using the BOXYHOOD as a negative pressure chamber reduce the aerosolization of droplets into the air and onto contact surfaces.
The BOXHOOD can be used upright in an arched position, when the patient is supine for intubation or other procedures.  If the patient is inclined or upright it can be used in a horizontal position more like a collar or space hood.
DON'T WAIT TO ISOLATE!  Use whatever supplies you have available until you can get the ideal materials we recommend or other  solutions delivered.  
Stay Safe!  TOGETH'E.R. 
"How To"
Instructions
Below
Negative Pressure Isolation
Extra Barrier of Protection & Safety 
Not Just  an Intubation Box
Containment, Aerosolizing Procedures & ???
Easy Draped Access 
Permits Unrestricted Manipulation
Disposable for Safety 
Single Use Only.  Inexpensive.
Avoids risks of Handling to Cleaning Crew.
Less autoinoculation/crosscontamination risk 

Free Open Source DIY Design
Assembles in Seconds with Common Materials

Easily Deployed Solution
Provide Protection Immediately System Wide 
Two "Closed" Ends
Protects ALL members of resuscitation team
Use Continuous Suction
Essential to always be on under the hood. 
Ongoing removal of viral bioburden.
Removal of exhaled C02 gas.
Offsets the potential positive pressure leak from ventilator, wall gas, or patient. 
Pulls out "bad air" and pulls in room air into the hospital suction waste system. 
CPR Permissive Dimensions
Recommended short dimensions do not block with simultaneous chest compression
Sturdy Triple Wall Design
Inwardly folded box flaps provide stability

Why Not?
Fast. Easy to set up.  Cheap. 
If doesn't work for you, revert to status quo
Empowering!
Addresses Concern (Fears) of Frontline Staff
Demonstrates Progress for PPE Issues. 
DO IT YOUSELF: INSTRUCTIONS & MATERIALS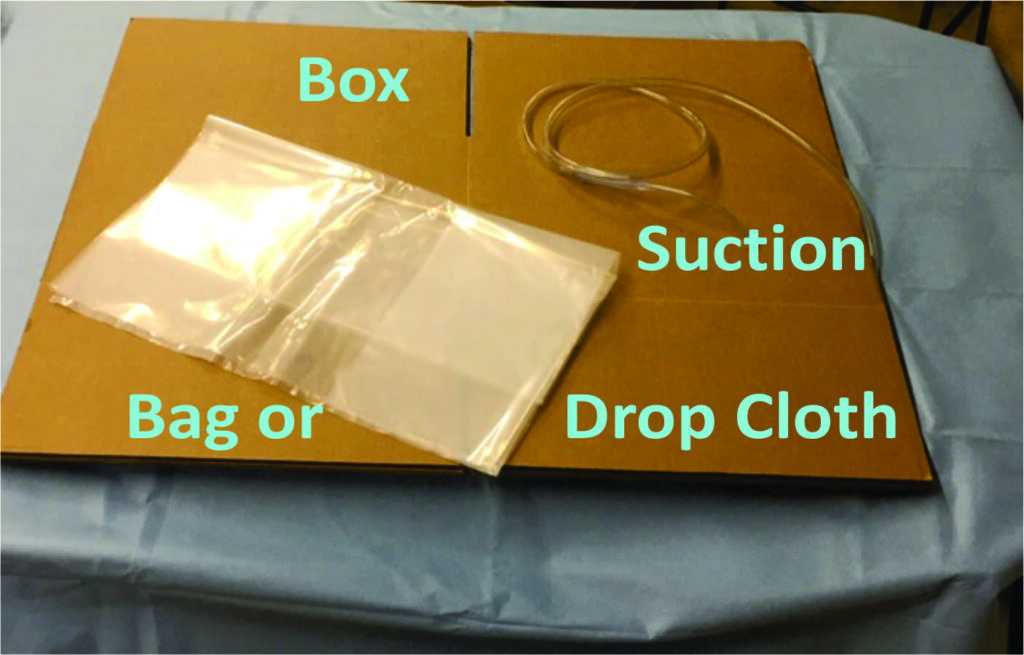 USE WHAT YOU CAN FIND AND WHAT YOU CAN GET
Specific materials are list at the end of this section.
Don't delay everyone's safety waiting for perfection.
BOX:  Creates the frame.
CLEAR PLASTIC BAG OR SHEET: Form Windows & Chamber
SUCTION: Transforms into Mini Negative Pressure Room.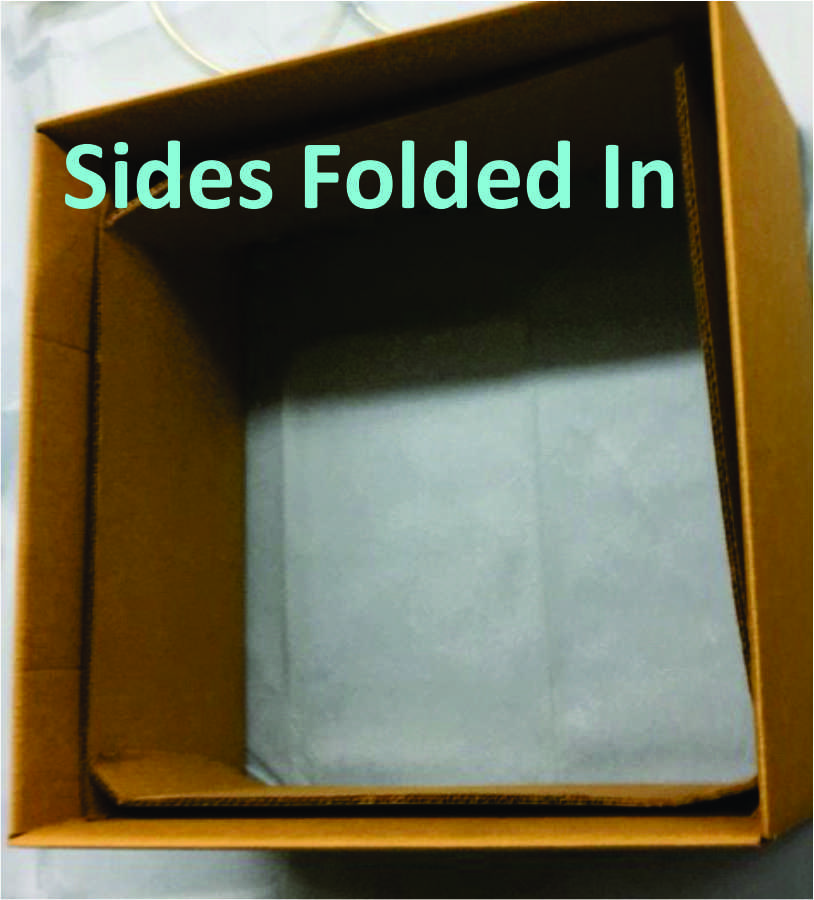 FOLD TOP AND BOTTOM BOX FLAPS INWARD 
CREATES A "TUNNEL" OR "ARCH"
WALLS WILL BECOME A TRIPLE THICKNESS
THIS WILL REINFORCE THE STABILITY
PULL BAG OR DROPCLOTH TO COMPLETELY COVER FRAME
PULL BAG TO THE BOTTOM. TUCK OR TAPE AS NEEDED
SUCTION, OXYGEN, MONITORS, VENT TUBING CAN GO UNDERNEATH THE BOTTOM OF THE DRAPE.
THROW IT ALL AWAY WHEN DONE WITHIN ITS OWN BAG
KEEP CONTAMINATED SURFACES ON INSIDE.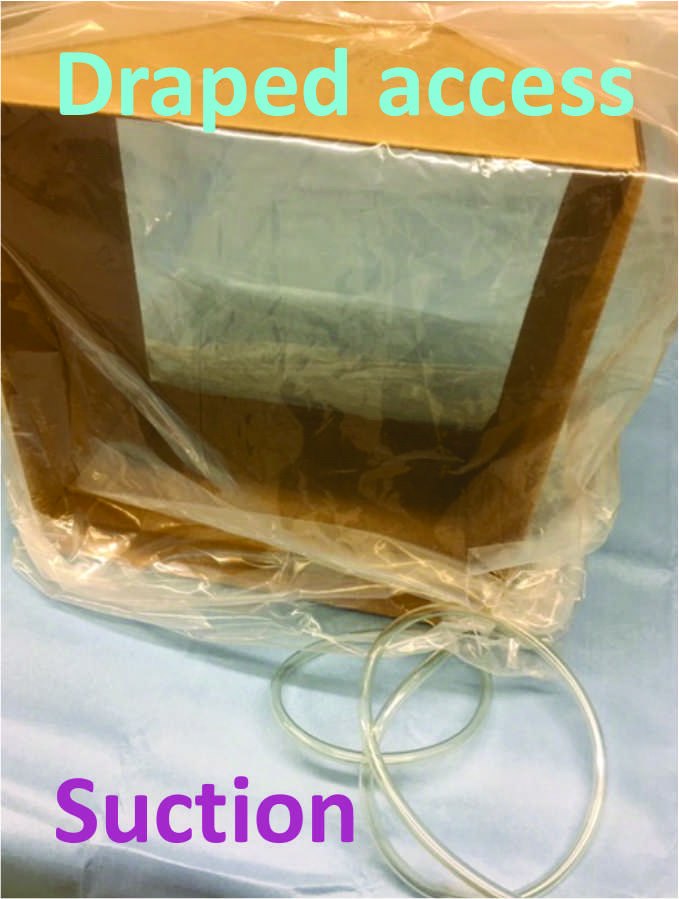 MAINTAIN SUCTION IN PLACE
KEEP SUCTION IN CONTINUOUSLY ON MODE.
MONITOR C02 & 02
CUTTING SLITS IN PLASTIC BOTTOM FOR ARM HOLES, PRN
BOX PAPER MIGHT NOT APPROPRIATE IN O.R. ENVIRONMENT
USE VIRAL FILTERS ON RESP. EQUIPMENT, IF AVAILABLE
COMPLY WITH ANY PROFESSIONAL MEDICAL OVERSIGHT
COMPLY WITH ANY SUPERVISORY GUIDANCE.
WASH HANDS AND ARMS; AND/OR DOFF GOWNS IF REACHING UNDER HOOD AND IF REMOVING ITEMS. 
There are many box, bag and drop cloth sources, including "big box" retailers.  
You can modify a box in your storeroom that is too deep (tall), by cutting slits at corners to make shorter.
The design above was made from the following parts:
ULINE: *
S-4996:  Thick Boxes 20X20X12
S-17702: Thick Gusseted Bags S-17702
ULine typically can typically deliver the next day. 
*THERE IS NO AFFILIATION WITH THIS VENDOR.  
20X20X12 DIMENSIONS PREFERRED.
12″ HEIGHT PREFERRED: 
If too tall, the box interferes with CPR when upright.
if too short box interferes with vision when horizontal.
CLEAR PLASTIC: BAG OR DROP CLOTH
Thicker preferred durability.
Clearer preferred for assessment and patient comfort.
Gusseted bag preferred as it is squared off already
Use Tape and Tucking to Maintain Closure. 
CONSIDER USING IN:
EMERGENCY ROOM
EMS / TRANSPORT
ICU
INPATIENT
CLINIC
DISASTER TENTS
ETC.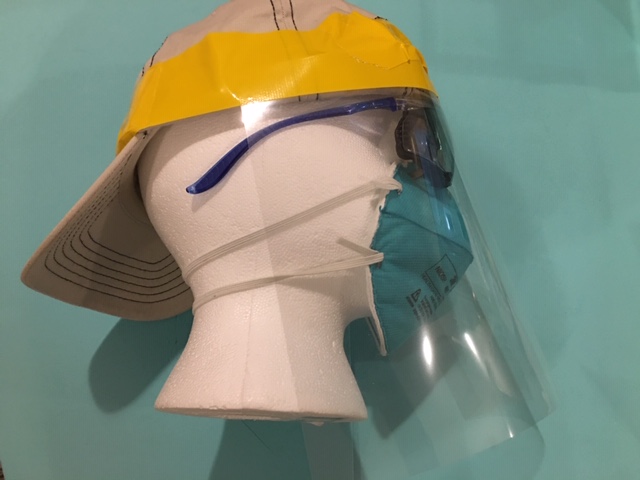 SplashHelmet
Baseball Cap Faceshield
Need a faceshield for droplet protection, but can't get one easily?  We will show how to make one quickly!
There is a lot more interest in wearing face shields for PPE these days and therefore a big shortage.  Not only are the finished goods hard to find, but so are the plastic sheets.  We will show you some simple ways to make one without a 3D printer, laser cutter or even… a sheet of plastic!  
With the right supplies you can make one in seconds!  .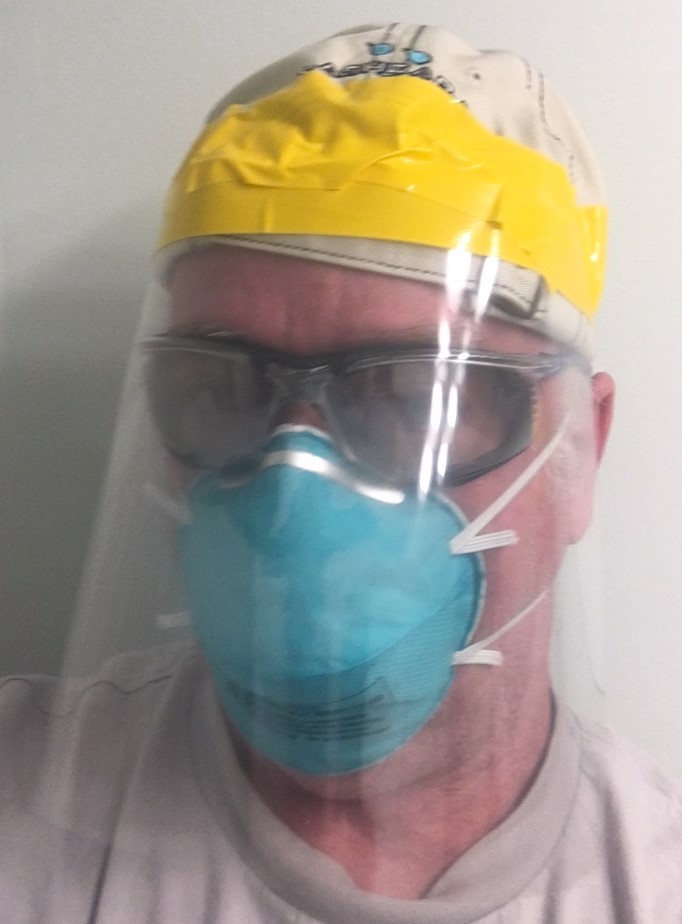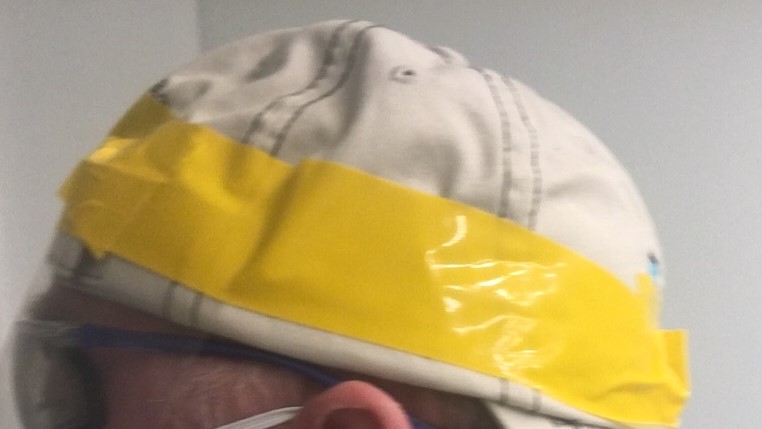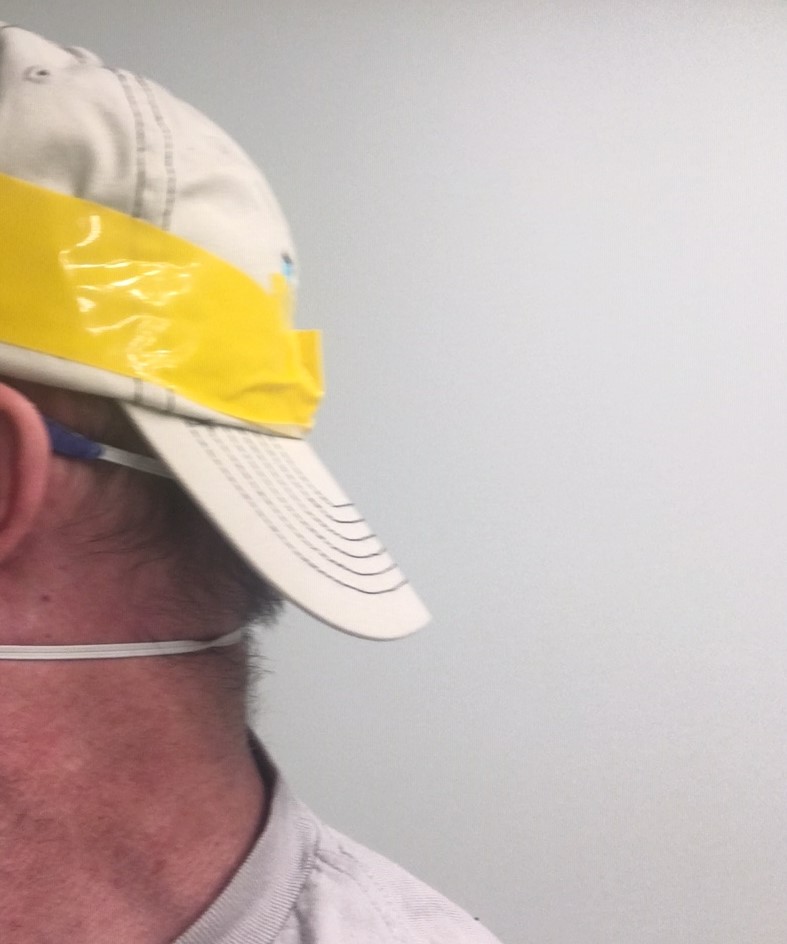 rear Neck coverage
rear strap coverage easy lid removal
Good Face Protection
11 inch Shield Width Using Transparency
Not Just Face Protection
Cover Head and Neck.  Ponytails?
Disposable Shield
Throw away shield.  Wash or Clean Cap. 
Easy to Build in Seconds. 
Make Dozens in Minutes With Duct Tape.
Easy to Find Materials. 
Transparency Materials Still in Stock in Stores. 
Easy Safer Removal & Storage. 
Take off with less exposed lid in the back. 
Place on paper sheet for storage.
Grip by the lid to lift and wear again.
Easy to Identify Your Cap/Shield.  
Avoids Cross-contamination if you remove. 
Comfortable Fit of YOUR Cap. 
Adjust to the size you want. 
Fits over Prescription Glasses. 
Adjust to the size you want. 

Masks make us less visible and less personal.
Show Team Spirit. 
Everyone wears the same cap
Provide them to staff for safety and unity.

Morale Boost. 
Like Casual Friday, Caps for COVID helps break some of the tension while also providing easily accessible disposable protective gear for safety. 
DO IT YOUSELF: INSTRUCTIONS & MATERIALS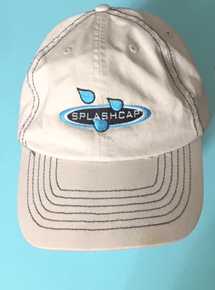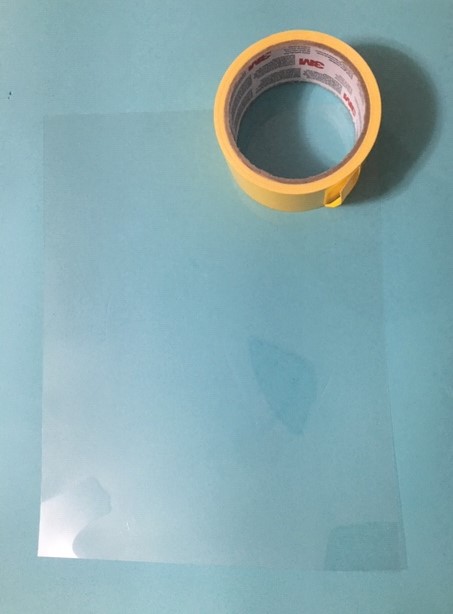 Duct Tape &
Transparency film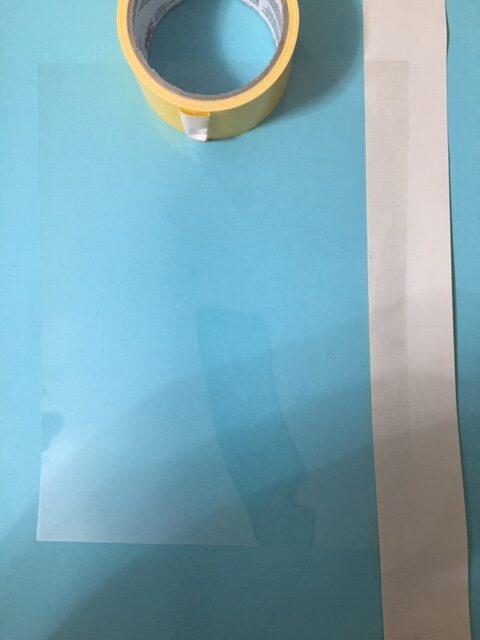 Apply film to tape's sticky side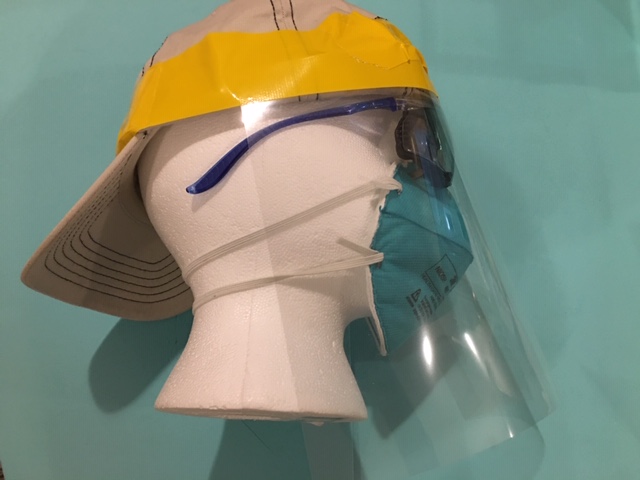 Position ON THE forehead wrap around Cap tosecure use a mirror IF AVAILABLE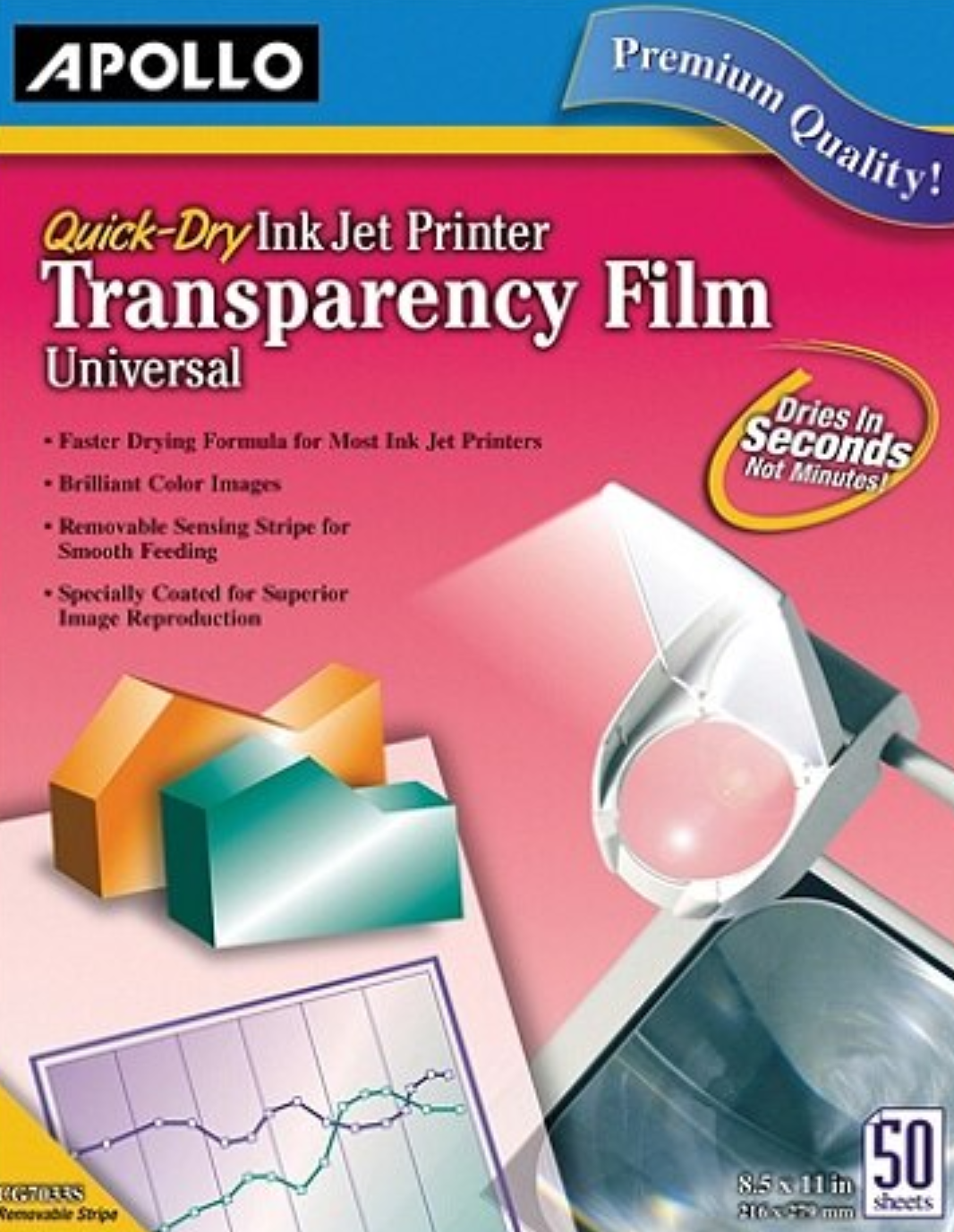 Buy OFFICe
Transparency film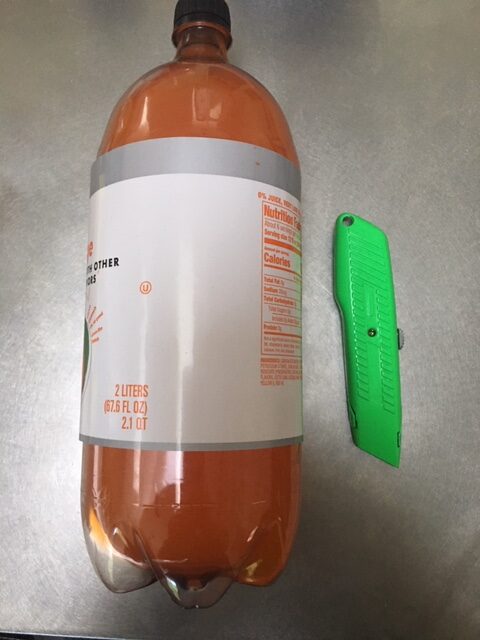 or make your own film with 2L bottle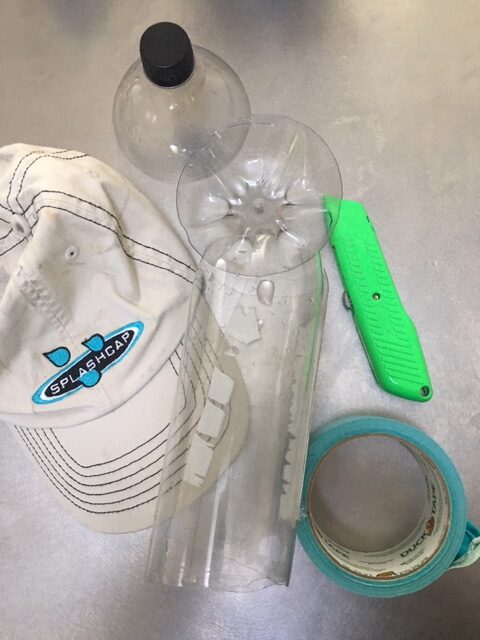 cut off bottle ends
use middle section

FUN. SAFE. EASY – AND SO STYLISH!


Mask don't always fit well and any break in the seal can cause air and droplets to go around the mask rather that through it.  N95's were designed for single use over a short period of time; no for all day use for multiple days.  Often stocks are limited so the proper masks are in short supply.  Try this simple method to improve the seal and comfort of your mask, so that you will be able to wear it longer with less handling and improved seal. Make sure you fold over the edges of the weather stripping to close any gaps. Recheck to make sure the bonds don't need reinforcement before and after use. This is not a substitute for a properly fitted mask. However, if you having issues with your mask seal, consider using this technique.
IMPROVE THE COMFORT & SEAL TO WORK BETTER.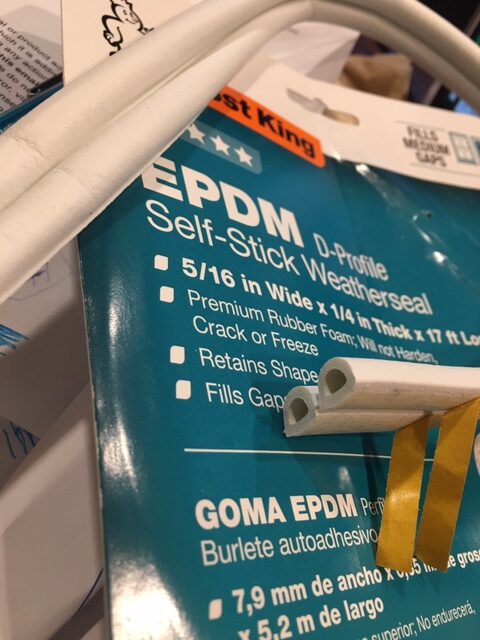 REMOVE DOUBLE LINER OF Weatherstripping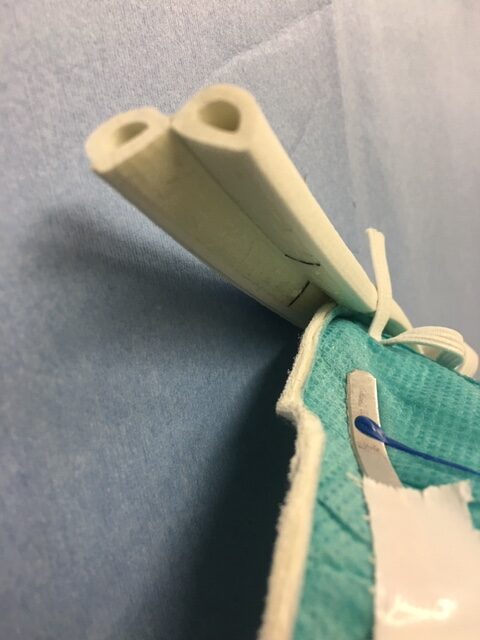 Fold over MASK EDGES
Close any gaps.
Allow to set and recheck seal

MATERIALS:

wEATHERSTRIPPING
EDPM D OR P PROFILE
5/16 X 1/4 MATERIAL IS MUCH SOFTER THAN IT LOOKS.

pURCHASE At:
HOME DEPOT, LOWE'S, ACE, AMAZON, ETC.

Allow Strip Adhesive To Set  After Applying to Mask.
 Recheck Seal 
Before Using.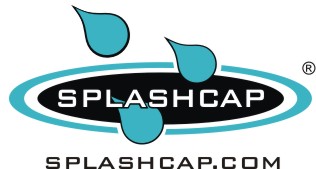 more ideas and information coming. send us your feedback. check back soon.